Deep in the backwoods of Louisiana comes a band that has a newfound purpose, a new found sobriety(congratulations to Cane Hill), and a renewed sense of focus which is allowing them to cultivate copious amounts of power and strength as Cane Hill has released "Too Far Gone" via Rise Records.
Elijah Reed, vocalist of Cane Hill, has stated that it was them wanting to feel invincible and all powerful via LSD that caused them to lose themselves and they went on a journey to rediscover who they are, and what we have now is a band that gives fascism the middle finger and sobriety the fist pump salute with their latest offering entitled "Too Far Gone", which was released January 19th via Rise Records.
"Too Far Gone" starts off with the title track, which showcases the power and the return of modern day nu-metal.  The music is more straightforward and it certainly hits the listener between the eyes with the chugging power chords and gutteral screams in "Too Far Gone".  There is a sense of an homage to the 1990's grunge movement, where it feels like a shoutout to Layne Staley of Alice In Chains mixed with Scott Weiland of Stone Temple Pilots in "Lord of Flies".  The lyric, "I was looking for heaven in the devil's eyes", is especially profound as it really shows the struggles that the band went through in order to find themselves again.
"Too Far Gone" Cane Hill
In the imagery, Cane Hill sounds chaotic mixed with a bit of a backwoods feel in the intro as it feels like something out of the movie Deliverance in "Singing In The Swamp".  In this track, the transitions and progressions are seamless and they serve a purpose where it adds to the music and the lyrics that the band is portraying.  There are parts where it sounds melodic and there are parts where it sounds chaotic.  "Erased" has that feel where Elijah Reed channels a bit of Johnathan Davis of Korn mixed with Corey Taylor of Stone Sour/Slipknot fame, where the track sounds haunting and trudging, and it hits hard in the chorus.  "Why?" has that essential bass groove where the bass is laid on thick and the rhythms groove you into a submission that involves whips and chains, love the industrial feel to it.
Overall, this band is a kick in the teeth in terms of their heaviness.  In a world where art is afraid to push the envelope, Cane Hill completely pushes the envelope with "Too Far Gone".  With "Too Far Gone", Cane Hill is certainly going to take leaps and bounds to the forefront of today's metal scene, as Madness To Creation gives them a 9 out of 10 star rating.  Check out the track listing below!
 Too Far Gone
 Lord Of Flies
 Singing In The Swamp
 Erased
 Why?
 It Follows
 Scumbag
 Hateful
 10 Cents
 The End
Cane Hill is currently on tour in Europe providing support for Motionless In White and Ice Nine Kills.  Check out tour dates below!
Saturday, January 20th- Stylus in Leeds, United Kingdom
Monday, January 22nd- The Garage in Glasgow, United Kingdom
Tuesday, January 23rd- Riverside in Newcastle upon Tyne, United Kingdom
Thursday, January 25th- Koko in London, United Kingdom
Friday, January 26th- O2 Institute in Birmingham, United Kingdom
Saturday, January 27th- O2 Ritz in Manchester, United Kingdom
Sunday, January 28th- Waterfront in Norwich, United Kingdom
Tuesday, January 30th- Petit Bain in Paris, France
Wednesday, January 31st- Biebob in Vosselaar, Belgium
Thursday, February 1st- TivoliVredenburg in Utrecht, Netherlands
Friday, February 2nd- Logo in Hamburg, Germany
Saturday, February 3rd- Fryshuset in Stockholm, Sweden
Sunday, February 4th- Pumpehuset in Copenhagen, Denmark
Tuesday, February 6th- Musik & Frieden in Berlin, Germany
Wednesday, February 7th- Essigfabrik in Cologne, Germany
For tickets and further information for any of the shows listed above, click here!
After their European run, Cane Hill heads back to the United States to provide support for Of Mice & Men on a North American tour!  Blessthefall and Fire From The Gods are also slated to be on the bill.  Check out tour dates below!
Friday, February 9th- The Ready Room in St. Louis, Missouri
Sunday, February 11th- House Of Blues in Chicago, Illinois
Monday, February 12th- The Crofoot Ballroom in Pontiac, Michigan
Tuesday, February 13th- The Opera House in Toronto, Canada
Wednesday, February 14th- Corona Theatre in Montreal, Canada
Friday, February 16th- Paradise Rock Club in Boston, Massachusetts
Saturday, February 17th- Gramercy Theatre in New York, New York
Sunday, February 18th- The Stone Pony in Asbury Park, New Jersey
Monday, February 19th- The Trocadero Theatre in Philadelphia, Pennsylvania
Tuesday, February 20th- The Underground in Charlotte, North Carolina
Wednesday, February 21st- Heaven at The Masquerade in Atlanta, Georgia
Friday, February 23rd- The Beacham in Orlando, Florida
Saturday, February 24th- Club L.A. in Destin, Florida
Sunday, February 25th- House Of Blues in New Orleans, Louisiana
Tuesday, February 27th- White Oak Music Hall in Houston, Texas
Wednesday, February 28th- Canton Hall in Dallas, Texas
Thursday, March 1st- Sunshine Theater in Albuquerque, New Mexico
Sunday, March 4th- Vinyl Hard Rock Hotel & Casino in Las Vegas, Nevada
Monday, March 5th- Orpheum Theater in Flagstaff, Arizona
Tuesday, March 6th- Nile Theater in Mesa, Arizona
Wednesday, March 7th- Soma in San Diego, California
For tickets and further information for the Of Mice & Men tour listed above, click here!
On the weekend of May 12th and May 13th, Cane Hill will be appearing at the Northern Invasion in Somerset, Wisconsin.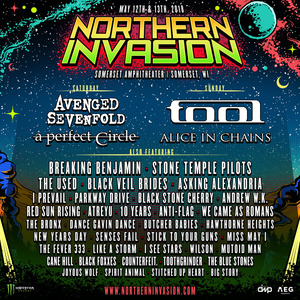 On the weekend of Friday, May 18th through Sunday, May 20th, Cane Hill will be appearing at the Rock On The Range festival in Columbus, Ohio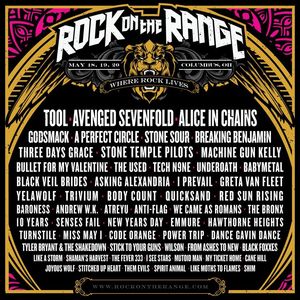 Find Cane Hill at the following locations:
www.facebook.com/wearecanehill